Build on CAR BENCH® - Repair on CAR BENCH®
Every day, CAR BENCH® equipment is used in body shops around the world to repair all makes and models of vehicles. However, collision repair centers aren't the only owners of CAR BENCH® equipment. Many of the world's leading automobile manufacturers also own CAR BENCH® equipment. Their ownership is a unique testimony of the superior quality of CAR BENCH® products.

During the last ten years CAR BENCH® have begun a new important cooperation with ALFA ROMEO, AUDI, BMW, CHRYSLER, CITROËN, DAEWOO, DAIHATSU, FERRARI, FIAT, FORD, GENERAL MOTORS, HONDA, HYUNDAI, ISUZU, KIA, LANCIA, MASERATI, MAZDA, MERCEDES BENZ, MITSUBISHI, MINI, JAGUAR, NISSAN, OPEL, PEUGEOT, PIAGGIO, PORSCHE, RENAULT, ROLLS-ROYCE, ROVER, SAAB, SEAT, SKODA, SMART, SUBARU, SUZUKI, TOYOTA, VOLVO and VOLKSWAGEN with regard to the supply of a special production of all basic CAR BENCH® equipment called "Protoline" (benches, cross beams, supports together with the necessary attachments) for use as universal assembly jigs for the study, construction and control of new prototype and pre-series and can be also used in production of car models.

CAR BENCH® "Protoline" products are custom-manufactured, mobile jig systems that are designed specifically to aid automakers in the rapid design, prototyping, and production of vehicles. This special line of products can be re-used for further projects and production cycles by a car manufacturer thus saving a considerable amount of time and money.

Build on Car Bench: Car manufacturer assembles vehicle using Protoline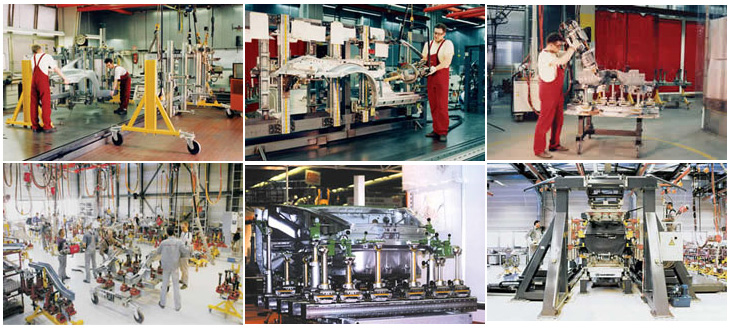 It's why we proudly say that nothing else comes close – because nothing does. Consider these facts:
CAR BENCH® repair systems are approved for use by more automakers than any other repair system, due to its accuracy, flexibility and convenience.
CAR BENCH® systems are used by numerous automakers for prototyping and production. You have very likely driven and may even own a vehicle that was built on a CAR BENCH®.
No other repair system in the world is used by even a single automaker for either prototyping or production. Only CAR BENCH® jig and fixture systems are used by dozens of automakers around the globe for the prototyping and production of new vehicles.
Repair on Car Bench: Approved by most car manufacturers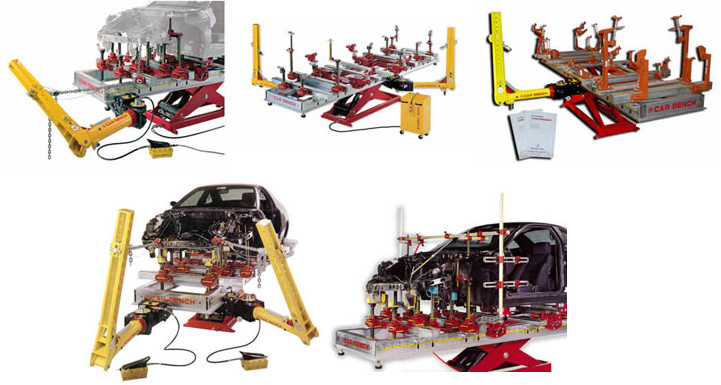 Now you can use the same production systems to repair vehicles in your body shop – with the same jigs that automakers use for production.
CAR BENCH® uses the same materials and manufacturing processes to build the frames, cross beams, and unified supports for car manufacturers as they do for body shops. When you invest in CAR BENCH® equipment for your shop, you'll enjoy using the same high-quality products that the automakers use.
Approvals and Cooperation

CAR BENCH® equipment is so accurate that numerous automakers – including Audi, BMW, Ferrari, General Motors, Hyundai, Nissan, Porsche, Toyota , and Volkswagen – choose to build their cars on it. That's right, CAR BENCH® equipment is on their production lines.
Introducing the CAR BENCH® advanced repair systems. The technology and precision of these premium products are second to none. CAR BENCH® benches are so flexible you can move from one simple to a complex model with just a few adjustments to cover the development of each car body. With CAR BENCH® equipment in your shop, you'll repair vehicles more quickly and more accurately than ever before.
Specific Jigs Repair System

Universal Jigs Repair System